On the 25th of June, we went on a school trip to Thorpe Park. Personally, I like rollercoasters but I'm just not a fan of going upside down. I didn't get any pictures when I was there so they're all off the internet.

First of all, after a long, early morning coach ride, we went on Rush. I love these sorts of rides that are like a massive swing and this was one of my favourites. It went up so high and the rush (see what I did there) was great. Despite one friend crying and the other one screaming that she 'can't do this', it was quite funny.
I then didn't go on Colossus although my friends did, purely because there were too many loops. This one had about five loops in a row, too much for me personally but my friends enjoyed it.
Not long after, we went on detonator. These are my personal favourite rides. This one went up fairly high and went down just once fairly fast before slowing down. You were held at the top for ages although the drop wasn't sudden. Again, I had screaming friends next to me, but I loved this.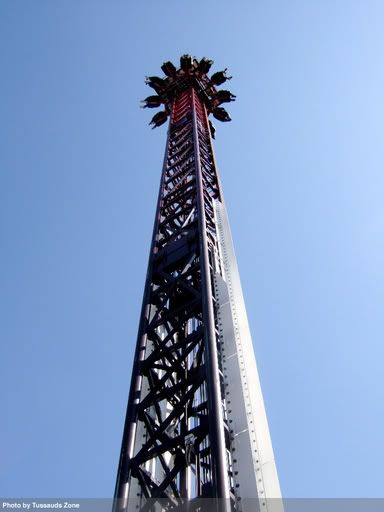 After this, we went on milder ride, Flying Fish. It's like a 'kids' rollercoaster and it went round loads of times. It wasn't too crazy but was still a bit of fun.
We then queued up for tidal wave for about an hour, but once we saw the boat with some rowdy lads, and inches high water in the boat, and our canvas shoes, we backed out at the last minute.

After this, we queued up for swarm. I didn't actually go on this one because it seemed way too scary for me although the set up and concept of it was really good.
After this one, we queued up for Saw. I was uhm-ing and aw-ing about this one. I wanted to go on it, and I think I would've liked it if it wasn't for the two loops in it.
We then queued up for ages for Stealth. This was a super quick ride, only 13 seconds but I loved it. It was so fast and I loved the feeling on it.
Finally, we went on Rush again.
We then took the long coach ride back.